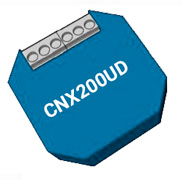 CNX200UD
Sensor and Actuator for IP500 Standard
The CNX200UD with the following dimensions 45 x 45 x 20 is designed for installation in
a standard flush-mounted box.
The maximum load of the actuator is 2×2300 W or 2×10 A (e.g. for roller shutters). The current consumption is measured individually for both channels. In addition, the unit is protected against overvoltage and overheating. The
system is specified for the 230 VAC domestic mains.
Suitable for the following applications
BESTec etp GmbH is your recource for the ip-500 products
We are your resource for the ip-500 products.